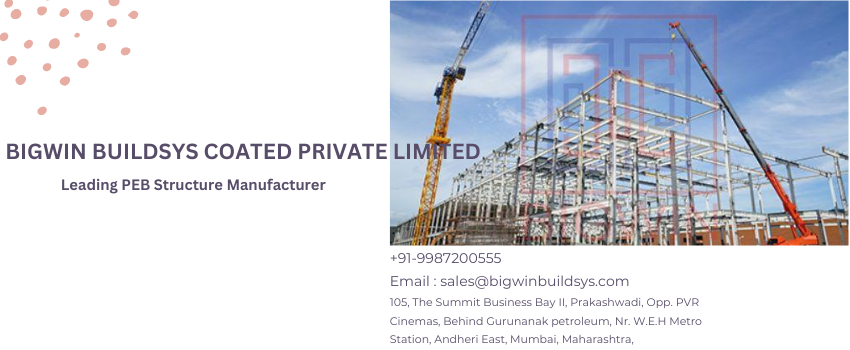 PEB structure manufacturer in Mumbai deals in different components such as trusses, fascias, canopies, and mezzanines. Get the best quality products.
PEB structures are considered affordable steel solutions for constructing buildings with real design flexibility within a short period. The pre-engineered steel structures are abounding as fully finished products with building accessories and wall and roof claddings. Such pre-fabricated steel structures need no on-site fabrication and can quickly be bolted together according to the needs.
A PEB steel structure is made over a structural idea of primary, and secondary members and cover sheeting joined to each other. It can also be suitably fitted with different structural components such as trusses, fascias, canopy, mezzanines, and crane systems according to the needs. The prime members commonly consist of columns, rafters, and beams that are commonly fabricated from high-strength stuff such as Galvalume. Making use of the components are main primary frame built-up sections are prepared by using arc welding machines and beam welding machines etc. If you are looking for a highly efficient PEB Structure, you should call PEB Structure Manufacturer in Mumbai.


Serving different industries
These days, several PEB structure manufacturers are supplying pre-engineered steel buildings for different applications such as warehouses, industrial sheds, storage sheds, institutional buildings, offices, and commercial buildings. Business associates who wish to make factory sheds, and factory buildings in the fastest time possible can also get the best services from a renowned PEB manufacturing company for constructing pre-fabricated factory sheds and pre-fabricated factory buildings as faster construction solutions. The process of installation and maintenance of the pre-fabricated metal buildings will not cost much to the industrialist and would be rather a suitable process for rapid industrial setup.


Made according to the industry norms
The products are made according to the industry norms and regulations, answering the quality standards. These are well-made structural framework buildings, thinking about the seismic zone, wind load, dead load, etc. The manufacturers in Mumbai promise the right solution provider for PEB structure working along from design, fabrication, production, and installation.
Energy Efficiency products are required to purchase
No doubt, one of the most important points to consider with PEB structures is energy efficiency. Pre-engineered metal buildings are energy efficient since they are made by companies, thus, there is no construction pollution taking place at the site, which is unheard of in brick-and-mortar buildings.

The highly popular residential usage of the pre-engineered metal structures is for garages and storeroom buildings which are used according to the space of the vehicles and storing stuff. The buildings can also be set up on a provisional basis for smaller industrial plans and quickly be uninstalled upon its conclusion. There are several PEB Structure Manufacturers in Mumbai India providing the construction of PEB buildings one must forever check out for the reliability of the company, the quality of structures it gives according to the International or Indian metal building standards, and the price they take as main deciding factors.